"If you want peace, just declare it."—John Lennon
Can it really be that simple? Yes, if you hold a "flag" for peace in your mind with a quiet, positive intention. I Declare World Peace is a worldwide power-of-intention art project to raise global peace consciousness, which is changing our collective view of what we are capable of as individual human beings, and proving that both technology and social media can be used powerfully for positive change. Read on for the "I Declare World Peace" story and Susan's interview with co-founder of the project Lawrence Gelber.
First, let's set the scene 10 years ago in 2010
New York based Securities Lawyer Lawrence Gelber woke up one day with one of those early morning awakening realisations: " … what if …" and that what if was:  "…what if each person would hold a 'flag' in his or her mind which collectively would change the future history of the world. The mental 'flag' is the phrase I Declare World Peace, expressed in the language of the thinker. And this would open a 'Gate in the Mind'.
Here's the story: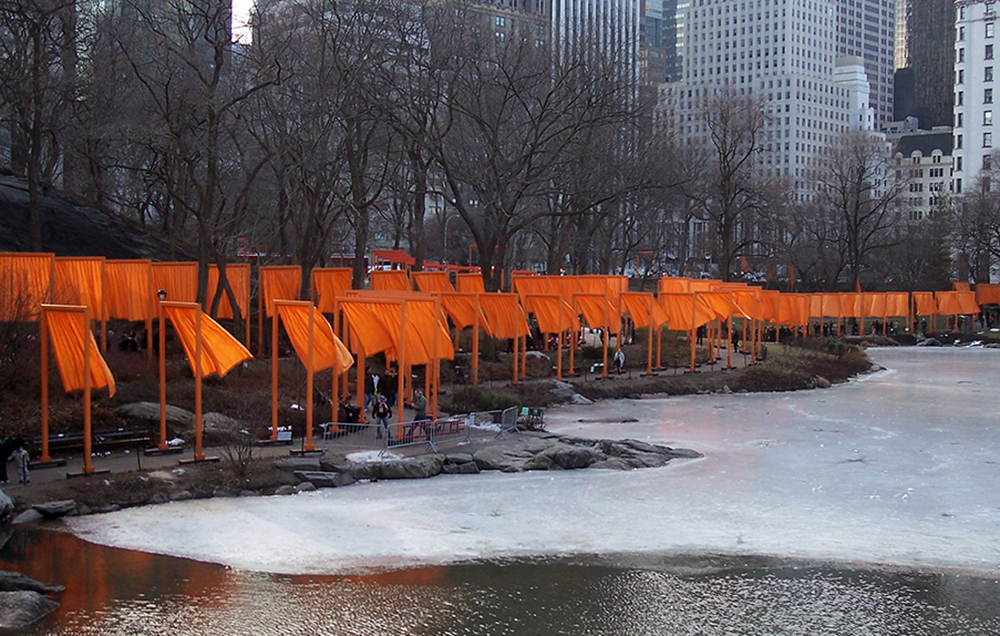 In 2005, the artists Christo and Jeanne-Claude brought "The Gates" to Central Park in New York City. A giant art installation of 7,500 orange fabric gates, 16 feet high (4.87 m) of varying widths, lined 23 miles (36.8 km) of footpaths in the park. While each individual Gate was beautiful in itself, the effect of the whole array of Gates was dramatically more engaging and powerful. It created a compelling dynamic involving the observer, the thing being observed and the process of observation.
"The Gates" installation in 2005 was the realization of a thought, an idea, hatched by the artists back in 1979. In 2010, five years after we saw The Gates, having been quite inspired by it, we too hatched a thought, an idea. Our idea was for an installation art project unlike anything that ever existed, a project only made possible for the first time in history by the existence and exponential growth of Internet-based social media and electronic communication.
Our thought, our idea, was to create the largest art installation ever, to be installed not in some physical location, or even in cyberspace but rather within the consciousness of every person on the planet, a sort of 'Gates of the Mind'. Each person would hold a 'flag' in his or her mind, which collectively would change the future history of the world. The mental 'flag' is the phrase 'I Declare World Peace', expressed in the language of the thinker.
As we have since we started in 2010, we will continue, over the coming weeks, months and years, to encourage people to type, recite, sing or otherwise publish the affirmation 'I Declare World Peace' on the "walls" of their various and favorite social media, such as Facebook, Twitter, Instagram, Pinterest, YouTube, LinkedIn and whatever new social media come into existence. We especially encourage people to make short I Declare World Peace videos, as explained on the 'Videos' page of the website [click here . . .].
Every great dream begins with a dreamer. Always remember, you have within you the strength, the patience, and the passion to reach for the stars to change the world.
—Harriet Tubman
I asked Lawrence a question upmost in my own mind, wanting to know if this is a huge organisation and how is it structured?
Susan:  Who is the "we" behind the organisation?
Lawrence:  The I Declare World Peace project is a joint effort between me and my wife. My wife, Rita Gelber, is the president and I am the vice-president. She works on all our designs and I do the promotion. So when I say "we" it's us.
Susan: You're a Securities Lawyer in New York City now, but you were a Transcendental Meditation teacher at one stage [in the '70's?] … where did you learn TM and do you still practice?
Lawrence: I learned Transcendental Meditation in New York City in late 1968. I became a TM teacher in Vittel, France in 1974. I taught TM in New York for a few years until I went to law school in 1978.  While I no longer teach TM, I practice TM twice a day, every day.
Susan: You're a firm believer in "Peace is Profitable". You know the figures and also the intangible values of World Peace — Yusuf Cat Stevens, as a philanthropist, is always talking about this as well: "…if you want to eradicate poverty you have to have Peace". Exactly HOW profitable is "Peace" in today's money?
Lawrence: I have not researched this recently, but I did a few years ago. Apparently, according to statistics developed by the UN Department of Economic Affairs in 2011, and as reported by Institute of Economics and Peace in 2012, had the world been totally peaceful in 2011, the benefit to the world economy would have been $9 trillion dollars. – $9,000,000,000, 000.00 !!!  I have not updated this research, but will soon.
Susan: Holding a thought in each of our individual minds of a universal intention for World Peace is totally Zen … and so is not accepting donations for your project—why that decision about money, finances and abundance?
Lawrence:  We absorb the full costs of operating our project – printing and sending out free stickers, maintaining our registered trademark, web site costs et cetera. We can do this because my legal practice allows me this luxury. That said, we do offset a bit by selling "I Declare World Peace" products – t shirts, tote bags, face masks and so on – all creatively designed by Rita – on Teespring and on Red Bubble.  We are technically set up as a "for profit" subchapter S New York corporation, but we operate at a loss. We refuse cash donations. We are not a non-profit because the complexity of complying with the requisite filings is beyond our comfort level. We take no salaries.
As for the "holding the thought in our mind", that idea is not original to us. Famous books in the West, like Think and Grow Rich and The Power of Positive Thinking, among many others, report on the value of quiet intent. Looking to the East,  and to the root of all its profound philosophical systems, including the Zen you mention,  we see that those systems all advance the notion of a foundational "isness" at the root of all consciousness, and contact with that "isness" (through meditation and similar inner focused mental techniques) is the "key" to fulfillment.  This idea occurs in Zen, in Vedic wisdom, in Chinese philosophy of the Tao and so on.
Susan: The "Tweeps Map" on Twitter is an instant visual and inspirational monitor of the project's success—tell us how technology and Social Media have worked positively for "I Declare World Peace?"
Lawrence:  Social media is the key to actually achieving peace. We use "peace" in our project to mean the opposite of "war".  For millennia, the common wisdom has been that peace is not possible.  While we dispute such so-called "wisdom"—because if it were true, the world would have already been destroyed —we understand it.  But that old paradigm for thinking about peace developed in the absence of social media.
Now, for the first time in history the world has the ability to instantly share an idea and to actively communicate the idea. The primary purpose of our project is to elevate global peace consciousness, to promote it or "sell" it so that thinking about peace becomes an international fad. We have cross-promotional relationships with other peace promoting organizations. The phenomenon of raising global peace consciousness is thus growing through the combined efforts of multiple groups around the world. We are just a small part.
All wars start in the minds of men (it's mostly men, sometimes women).  Men first think and then act on those thoughts.  So the hope is to change thinking. John Lennon said that if you want peace, just declare it.  And so we do.
I was once asked why I don't participate in anti-war demonstrations. I said that I will never do that, but as soon as you have a pro-peace rally, I'll be there.
—Mother Teresa
How do I get involved?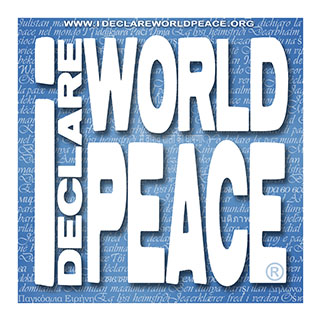 Post and tweet the affirmation "I Declare World Peace" on your favorite social media site from time to time. Every time you see the tweet "I Declare World Peace", or our hashtag "#IDWP", please retweet (RT) it. It will soon become like popcorn popping all over the world.
We also encourage everyone to make an I Declare World Peace video. Examples to guide you are here: IDWP videos.
Visit www.facebook.com/declarepeace and "Like" the page. Share with your friends. If you would like to promote the web site, please do so. We are happy to provide a free link to your appropriate, lawful business or entity on our Wall of Support page [click here].
It requires no reciprocity. Just send us a message on our Facebook page and provide your URL; we will do the rest. Help us create the largest art installation in the history of the world, installed, for the first time ever, in the consciousness of humanity. Help us demonstrate the power of collective intention.
Come back to the website from time to time and check updates. The official I Declare World Peace hashtag is #IDWP.
Bio: Lawrence Gelber is a New York City based Securities Lawyer, former Transcendental Meditation teacher and daily practitioner. Learn more about I Declare World Peace at the website www.ideclareworldpeace.org and get involved on social media: add the hashtag to your bio, page and on posts #IDWP:  Twitter: @idclrWorldPeace   Facebook: www.facebook.com/declarepeace .The I Declare World Peace videos are on the YouTube Channel: https://www.youtube.com/user/ideclareworldpeace. I Declare World Peace do not accept donations but you can buy products in the stores: [click here …]